Rosalba's Cooking Classes






Information about Rosalba's Course

Due to the necessary closure of the Restaurant Alle due corti® in order to host Rosalba's courses, the lessons and participation in her classes is programmed well in advance.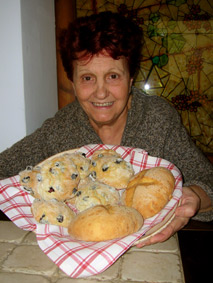 • The lessons take place in the restaurant kitchen Alle due corti®, while the exclusive lunches are served in restaurant's dining room. The complete programme is organised by the Association of Food and Wine Culture of Salento "La Rosa".

• The course comprises three days with four nights' accommodation. Upon advance request, extra nights' accommodation may be arranged with additional activities in the local area (excursions, winery visits and many other activities).

• The maximum number of course participants is 6 people. Course information regarding costs, payment methods, dates, as well as eventual course enrolment, is available by contacting the following address: associazione.la.rosa@rosalbadecarlo.it.

• For those working in the cultural heritage or tourism sectors or with an association (also abroad) with contact with Italy or Apulia and an interest in working with us to organize small groups contact us at the following address for more information: associazione.la.rosa@rosalbadecarlo.it. The courses which can be run in English or Japanese can also be organized in other languages with your collaboration.