March 31, 2002
In Italy, a Busy Crossroads of History
By FREDERIKA RANDALL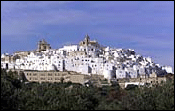 THE sun is homing in on the mountaintop, an alien spaceship docking, red as a huge San Marzano tomato. It hovers there above us as we coast down the Apennine foothills onto the tavoliere, the great agricultural plain of Apulia. It's a gorgeous late December sunset as such sunsets go — but also a bone of contention. I prod the accelerator and squint sideways at my husband, Vittorio, who sits in the passenger seat, a sphinx. Whose fault is it that we'll be arriving in the dark? Well, let's just say we disagree on that point.
It wouldn't really matter except that Apulia's daylight is special, even here in the Mezzogiorno, the sunwashed southern half of Italy. Elsewhere light glows; here, especially as you move south into the part of the region known as the Salento, the point of the heel of Italy's boot, light hums with charged particles, it crackles with electricity — so potent you want to bottle it and take it home.
In its weightless, immaterial way, light is one of the elemental forces shaping the landscape, the architecture and the anima of this corner of southeast Italy, known to Italians as Puglia. The light is different here, a native once explained to me, because the long, level spur of the region, with its miles of silvery-green olive groves, sits between two seas — the cobalt blue Adriatic, and the lapis waters of the Ionian — that mix their reflected sparkle in the limpid Apulian air.
Right now, however, it's a sparkle in short supply. The good thing is, Vittorio and I have agreed not to trade recriminations. We'll just concentrate on getting to Martina Franca, our destination for tonight.
The autostrada runs along the Adriatic side of the peninsula to Bari, then swings west toward Taranto: we'll take the highway down the east coast toward Brindisi. We've seen those three cities — among the region's largest — previously. This time we're heading more out of the way.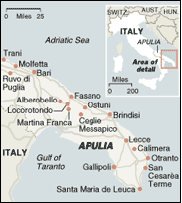 [...]
Corte dei Giugni 1, Lecce; (39-0832) 242223. Traditional home cooking, with a good list of Pugliese wines. The menu, in dialect, is hard to read even for most Italians. Ricciarieddhe cu li pummitori scatt are big, flat pasta with a sauce of tiny, strong, quickly-cooked tomatoes. Turcinieddhi are little sausages made of roughly chopped sheep's liver and offal. Meal for two with wine, about $41. Open for lunch and dinner Monday to Saturday.